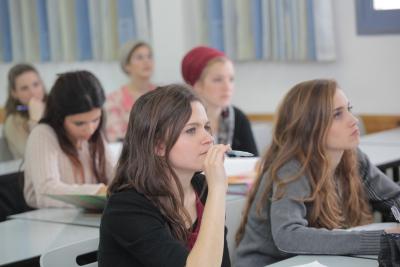 Training Future Educational Leaders
Serving as a religious educator in Israel demands a great deal of faith – in Hashem of course – but also in other areas as well.
    Belief in her ability as a teacher who can affect change and encourage personal growth in each student.
    Faith in the power of education to shape and mold society.
    Understanding the unique and complex challenges of teaching today's children in Israel's Religious Zionist community.
In this groundbreaking two-year program under the guidance of  Rabbi Dr. Yona Goodman, students address the unique opportunities of living and teaching in Israel and the challenges they will face as educators. They also learn important tools that will make them better teachers and role models in their schools and communities.
Courses include:
    Personal and Spiritual Development and Growth – The Foundation of an Educator's Identity
    Identifying and Addressing trends in the Religious Zionist Community and Israeli Society at Large
    Teaching Emunah in a Post-Modern Age
Study is conducted in a number of educational formats including class meetings, group discussions, field visits, social activities, and Shabbat seminars.