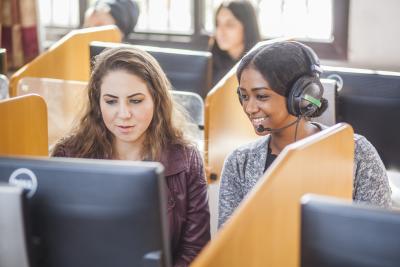 Training Ethiopian Student-Teachers to be Community Leaders
Tasfa, which means "hope" in Amharic, is the name of a unique Ministry of Education program for the advancement of Ethiopian teachers.
Orot Israel College is one of 6 colleges in the country that is certified to run this program. This full-year program operates on both the Elkana and Rechovot campuses, and includes courses and workshops in education training, public speaking, community leadership and family counseling.
Tasfa's objectives include: providing Ethiopian student-teachers with the tools to hone their teaching skills, enabling them to achieve academic literacy and excellence in the teaching profession; sharpening Ethiopian student-teachers' sense of identity and cultural awareness; and training Ethiopian student-teachers to become community leaders who can implement outreach programs aimed at empowering youth at risk and needy families.
With its long-term goal of achieving effective community outreach, a nucleus of Tasfa program graduates now serve as rabbis and educators in various underprivileged communities.
Join Orot Israel College in enriching and assisting members of the Ethiopian community to integrate into Israeli society in the best way possible, by providing them with the tools to help others.