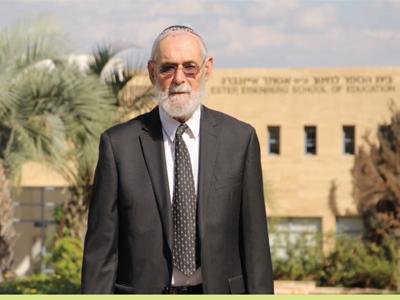 Orot Israel College has established The Rabbi Dr. Yehuda Felix Student Scholarship and Housing Fund in honor of Rabbi Dr. Felix's 80th birthday and the 40th anniversary of the establishment of Orot Israel College.
The Rabbi Dr. Felix Student Scholarship and Housing Fund will aid students in two areas:
1.    Providing scholarships for disadvantaged students who want to study and complete their teacher's degree at Orot Israel College, where they will be able to acquire a profession and reach their personal and academic potential in a Torah environment.
2.    The building of a residential center consisting of 24 studio apartments on the Elkana Campus so that young married couples can live close to the College, afford the low rental cost, and lead an active family life while pursuing their education.

Without a doubt, these two projects are essential in fulfilling Rabbi Dr. Felix's vision: " I want every student at Orot Israel College to have the ability to bring the values of Torah and the love of Eretz Yisrael to every child in the Jewish world."
This expression of esteem and appreciation of Rabbi Dr. Yehuda Felix is but a small measure of the honor he deserves for the many years of his untold efforts and investments establishing these magnificent institutions of learning. These efforts have centered on the betterment of the State of Israel and the Jewish people, and the development of a generation of outstanding educators dedicated to the love of Hashem, the Torah and the Land of Israel.
The Rabbi Dr. Yehuda Felix Student Scholarship and Housing Fund Trustees:
1.  Mr. Kurt Rothschild - President, World Mizrachi
2.      Professor Yuval Sinai - President, Orot Israel College
3.      Mr. Jack Kahn - Chairman of the Board, Mizrachi Canada
4.      Mr. Joel Koschitzky - Member of the Executive Board of Trustees,
                          Orot Israel College

Partner with Us
Religious Zionist communities in Israel and around the world face many challenges as they raise their children to balance their Jewish and modern identities.
It is of the utmost importance that we empower and train future educators with the skills necessary to stand before our children and grandchildren and inspire them with Emunah, Jewish identity and the love of Israel.
Orot Israel College is the key.
From student scholarships to residential facilities and an onsite early childhood daycare center, Orot Israel College understands the importance of caring for both their single and married students.
The Elkana campus of Orot Israel College has a student body of approximately 1,200 female students. The college offers residential facilities for 100 single students and six couples who live in studio apartments in the recently dedicated "Cymberknopf Student Housing Building". Fifty more married couples live in old rundown caravans, desperately waiting for the construction of 24 new studio apartments.
By investing in Orot Israel College, you are strengthening Israel's future religious educators who will kindle the world of Torah and the love of Eretz Yisrael  in the souls of our children.
Residential Center:
Building Name - $1,000,000
Individual Studio Apartment Dedication - $100,000
Student Scholarships:
a. Capital gifts - unlimited
b. Annual scholarship - $2,500
c. 4-year scholarship - $10,000