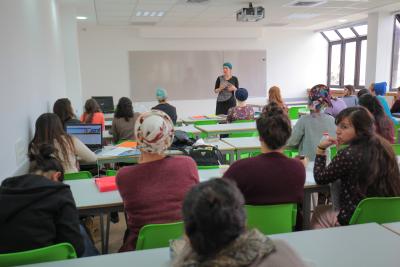 A New Orot Initiative in the World of Jewish Education
At Orot, we don't just train teachers, we build educators who are sensitive to their students' personal needs, display a high level of professionalism and can nurture Jewish identity and values. In order to achieve these critical goals we have developed a truly unique educator training program.
A mechanechet, homeroom teacher, is responsible for the personal, educational and spiritual well-being of her students. More than anyone else in the system, a mechanechet plays the most important function in her students' growth and development.
Until now, no formal program existed to train future teachers to fulfill these primary educational goals. To meet this pressing need for a comprhensive training program that will equip future mechanchot with the broad range of tools needed for this essential task, the Orot Israel College of Education has established a pioneering Educator Training Program under the leadership of Rabbi Matanya Yadid and the guidance of Rabbi Dr. Yona Goodman. We anticipate that the success of this initiative will encourage Israel's Ministry of Education to adopt and sponsor this program in the near future.
The mechanechet will learn how to dialogue through listening, identifying signs that a student is at risk, and thus initiate indivdual contact, enveloping her students in the world of Torah and embedding the responsibility that every Jew has to Am Yisrael.
During their course of studies in this two-year program, students will spend 200 hours learning  the unique role and skills critical to serving as an effective mechanechet in the Israeli classroom. This program will include:
    Academic courses
    Meetings with leading educators, personalities from throughout Israel, and mechanchot working in the field
    Conferences focusing on individual topics related to the unique role of the mechanechet
    Field-work and indivualized study
    Informal education courses about the culture of young people growing up in the Religious Zionist community today
Upon successfully finishing the program, Orot students will earn a Certificate of Completion from the Orot Israel College of Education.

Ra'aya and Eliraz, 5778-9 Mechanechet Program Participants
"As participants in the Mechanechet program, we are amazed at the incredible content which is conveyed, the unique atmosphere, and especially the all important educational emphasis…[We greatly appreciate] that Orot offers a unique enrichment program that relates to and emphasizes a deeper understanding and analysis of educational issues with all of their complexities, from the practical issues of class discipline and homework to the great misson of education, with all of its struggles, challenges and joys."