Inspiring the spiritual growth of our students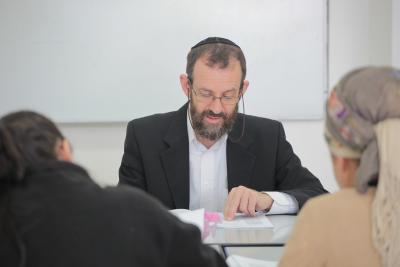 As a religious teachers' college, the Orot Israel College of Education takes great pride in the special Judaic enrichment programs offered to its students in the course of their academic studies. These programs, which are not supported by Israel's Ministry of Education, help ensure that our students not only grow vocationally and intellectually during their academic careers, but religiously and spiritually as well. Under the direction of Rabbanit Dr. Leah Vizel, Dean of Students at the Elkana campus, these programs offer a wide-range of opportunities for the diverse religious student body.
Programs include:
•    Halachah Track:
Dedicated by the Koschitzky family in memory of Riva z"l
The Riva Koschitzky Beit Midrash Program for Advanced Halachic Study - Under the leadership of Rabbi Gil Dvir and Rabbanit Dr. Adina Sternberg, students engage in advanced chevruta learning supervised by exceptional educators in the area of Rabbinic Judaism. Students study both independently as well as in classic shiur-style, working towards the publication of a Torah journal at the end of the year.
Leadership Track:
The Institute for Educational Leadership and Emunah - In this two-year program under the guidance of Rabbi Dr. Yona Goodman, students address the unique opportunities of living and teaching in Israel and the challenges they will face as educators. They also gain important tools that will make them better teachers and role models in their schools and communities.
•    Torah and Family Track:
Studies in Torah and Family Life - focusing on family and interpersonal relationships according to Halachah and Jewish tradition under the umbrella of Orot's Center for Jewish Family Studies.
Professor Yuval Sinai, President of Orot Israel College
"Orot Israel College is a leader in Torah and academia. We place great emphasis on ethical and religious commitment which will enable our students to educate children in the values of faith, love of Torah, the Jewish nation, and the Land of Israel. We have developed a unique program devoted to intense Torah study taught by first-rate instructors in a wide array of subjects that are both exciting and relevant to educators in Israel's religious public school system."