Helping students from disadvantaged families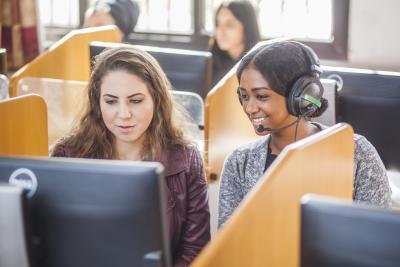 Orot Israel College's Scholarship Fund provides scholarships for disadvantaged students who want to study and complete their teacher's degree at Orot Israel College, where they will be able to acquire a profession and reach their personal and academic potential in a Torah environment.
Students from disadvantaged families require more economic assistance than other students because they lack a strong financial background and/or have no family support. In most cases, their parents cannot afford to help their children with tuition expenses at all.
The burden of working many hours to pay tuition and trying to devote enough time to studying, makes it difficult for these young men and women to cope during their college years.
The Orot Israel College's Scholarship Fund provides these students with scholarships that enable them to complete their studies without having to work full time.
"I would like to thank you from the bottom of my heart for your financial assistance. You have no idea how much peace and quiet your help gives me. While I'm studying I can really concentrate on my lessons without thinking about how to survive.
Your help saves lives. It's just like throwing a stone into water and making waves. You don't see your influence, and for this reason I'm writing, so that you will know that your assistance saves people's lives."
B.O., a student at Orot Israel College
Join Orot Israel College by economically empowering students from disadvantaged families and enabling them to complete their studies without a financial burden and to successfully integrate into Israeli society.
Dedication Opportunities:
$2,500 for a yearly scholarship
$10,000 for a Bachelor's Degree scholarship (4 years)
$7,500 for a Master's Degree scholarship (2 years)