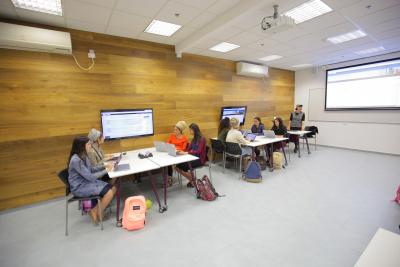 Developing study programs to meet the unique needs of the Chareidi sector
As part of "start-up nation," male and female chareidim are becoming more and more integrated in the hi-tech market. Currently, there is a shortage of instructors from the chareidi sector who can teach children in their own communities the basic skills required for future success.
This shortage of teachers leads to significant numbers of chareidi students dropping out of advanced studies courses, a trend which is only worsening the cycle of poverty in the chareidim community.
Orot Israel College is training male and female students who can provide instruction and the necessary skills to help the chareidi community grow and prosper. Students from this sector are different from other students in a number of ways: The classes are not only separate for men and women but they must be in separate parts of the building. Most of the students do not have a personal computer or internet in their homes, which obliges the college to provide them with access to this technology for their studies.
Orot Israel College seeks to establish "smart classrooms" and a computer lab in order to meet the needs of chareidi students.
Smart Classrooms integrate learning technology, such as computers, specialized software and audio/visual capabilities to enhance the learning of the students.
Help us provide these technologies so that Chareidi  students of education will have the pedagogic tools vital for efficient teaching in the twenty-first century.