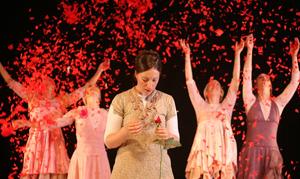 Adding to its innovative character, Orot Israel College is the only religious college in Israel that offers a 4-year Teacher's Degree in dance and movement for young women. The Orot Israel Dance Department trains students to become dance teachers and work in religious schools, community centers and other suitable venues. This unique undertaking enables young religious women to develop their creative artistic talent and expression through dance in a way that is both modern and modest.
The Orot Israel College campus in Elkana operates two dance halls for the over 70 young women participating in the Dance and Movement program. The existing two dance studios, showers and dressing rooms were built over 20 years ago and do not fulfill the needs of today's increased student population and Israel's Ministry of Education's required upgrading standards.
The renovation of the two dance studios of 370 square meters, will entail replacing the shock absorbent parquet floors, new lighting, sound, video and computer systems, fire systems and air-conditioning.
The 180 square meter shelter area below the dance halls will be renovated in order to provide additional student showers and dressing rooms. The fact that the renovations will be in the building's thick concrete-walled shelter makes the work all the more challenging.
The renovations in the shelter will include: the construction of 6 new bathrooms, including one for the disabled, two new showers, 8 dressing room stalls, a small kitchenette, air-conditioning and all the electric and plumbing needs required.
Our goal is to create a unique professional framework for observant choreographers and dancers who dance and will teach dance, as a way of life and personal fulfillment.
Join us in improving the training conditions for future religious dance teachers, creative artists, and dancers. This is the only track in Israel where religious young women can study the dance arts at an academic level.
Naming Opportunity:
Cost: $400,000