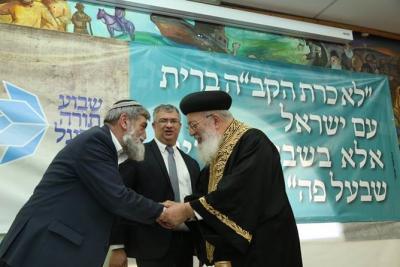 For a generation or more, teachers and scholars have been laboring to reveal the vibrant Jewish culture that developed in Islamic lands. Yet despite these efforts, most of the material has remained accessible only to professionals in academic settings. These classic texts have not found their way to the Jewish bookshelf, and so, they have not made an impact on the minds of those who studied the classic literature.
As well, the Ministry of Education has realized that Israeli students are not exposed enough to the rich culture and study of Sephardic heritage. So, as the largest religious college of education in Israel, Orot Israel College's assistance was requested to help disseminate the knowledge of Sephardic heritage. With more than 4000 students currently studying at Orot and training more than seventy percent of the educators and Rabbis for Jewish studies in religious schools and Yeshiva High Schools around Israel, Orot Israel College is clearly the place to begin.
The goal of The Sephardic Heritage Research Center is to broaden access to the legacy of the Jewish scholars who lived in Islamic lands and to pass this rich culture on to the coming generations by way of scholarly work, an interactive website, annual "Libi BaMizrach" International Scientific Research Conferences, training of teachers in the field, and courses and educational programs.
The Sephardic Heritage Research Center will target academics (researchers and students), teachers in various educational settings and the wider public.
The Center's activities, research and publications will be backed up on a website with free access and will include the following functions: syllabi and information for lecturers and teachers in the field, an educational center for teachers and students, lesson plans, a database for scholarly articles, annotated digital editions of writings by Gaonim and Rishonim in the Islamic lands, and an archive of recorded classes and lectures from"Libi BaMizrach" Conferences.
Join Orot Israel College in establishing the Sephardic Heritage Research Center to promote the study of Sephardic culture. The Center's goal will be to understand more fully Sephardic history, its literary works, and its contribution to the milieu of Jewish life throughout the generations.
Cost:
One time cost of website creation: $35,000
Annual hosting and maintenance of the website: $3,500
Annual cost of Research Unit (head of Center, two researchers and stipends for student researchers): $216,000
Annual cost of additional activities: $34,000