Meeting the financial needs of our students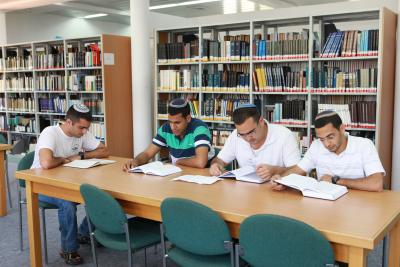 Today there are many Ethiopian and Chareidi students, as well as others from disadvantaged families, who are studying at Orot Israel College. These students are studying for teacher's degrees in a variety of fields, yet the burden of financial support makes it difficult for them, both men and women, to cope.
Many students from these communities require more assistance because they do not have the finances and/or the parental support. In most cases, their parents cannot even afford to help them with their living expenses.
Orot Israel College provides sustenance stipends to assist these students with basic living expenses to enable them to complete their studies without having to work full time. These funds are given directly to the students.
"I was so pleasantly surprised by the College's great willingness to help me. I know that no other College would be interested in a student's financial problems; as long as they get their tuition it makes no difference to them if you study or not. Here they see who you are and care about your personal issues, and they help you so that you can concentrate on your studies."
I.S., a student at Orot Israel College
Join Orot Israel College to economically empower students from disadvantaged families, and from Ethiopian and Chareidi communities. Enable them to complete their studies without a financial burden and to successfully integrate into Israeli society.
Annual Dedication Opportunities
Married Student: $2,000
Single Student: $1,000