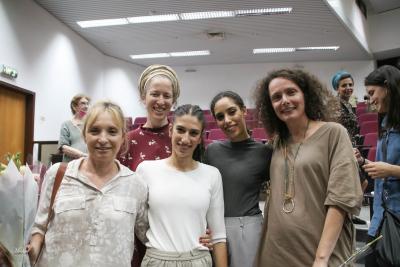 Head of the Dance Department: Dr. Talia Perlshtein
Dance Department Coordinator and Author of the Article: Dr. Lilach Shalit
In the first week of July, 43 students from dance programs in the national religious education sector filled the College.  The existence of the dance major in Israeli high schools--as an extended program of studies, which also allows for pre-professional training--is a unique phenomenon in the West. They came from 7 different high schools around the country and with a love of dancing in their hearts. They all came with one goal – to receive a dance instructor certificate after the course. This course is the first of its kind in Israel and took place at the Orot Israel College in Elkana, in collaboration with the Ministry of Education and the Division for the Supervision of Dance.
Due to the large registration, the course opened in two separate groups, for tenth-grade students and another group for eleventh-grade students. The girls came from dance programs in the national religious sector where their teachers are graduates of the dance Department at Orot. This is how the chain of generations of dance teachers continues. The students who participated in the course will be eligible for a dance instructor certificate at the end of their general matriculation exams and they will hopefully enroll in academic studies in the dance Department after their national service ( Sherut Leumi).
The course was developed by Dr. Talia Perlshtein, Head of the Dance Department and the diverse course syllabus was delivered by professional lecturers who are members of the Department team: Ms. Eilat Haber, Ms. Shiri Hadad, Ms. Moran Dekel, Ms. Efrat Nechama, and Ms. Avital Ben Gad- Flemer. The studies included methodology classes, technique classes, and art classes with the thought of meaningful, experiential, and faith-based learning as a way to reach a higher level of spirituality.
At the end of the course, the students were highly satisfied with the course. In the summary meeting, the students shared their feelings and experiences with the staff, for example: "I was able to progress and develop"; "I learned a lot about myself and dance in general"; "The option to get the certificate (is) really great"; "The course is really serious and professional"; "I met new girls and learned a lot from them"; "This course has undoubtedly been a significant step towards my dance future. I always strive for the most professional in a halachic setting."
There is great importance in the availability of such courses at the College in order to develop an extensive and professional learning community in the field of dance and to increase their interest in academic studies. Following the successful experiences of the teaching staff and the participating students, there is already an expectation for courses that will open next year. 
Photographer: Michal Pinchasi