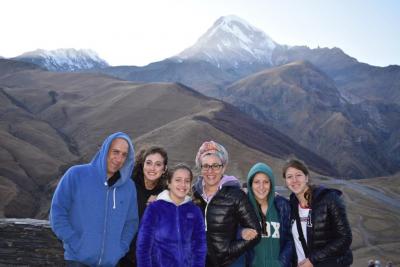 Looking back on my year at Orot, my greatest memories are of the tiyulim and Shabbatonim.  I loved going to the sites where ancient Jewish history and modern Israeli history took place.  We read Pesukim in the place where the event actually happened.  The landscape and views were touchingly beautiful.  We met new people and were exposed to new communities.  Little did I know how this would influence me later on in life.
This might sound cliché, but I chose to learn at Orot because it was Israeli and in line with my religious and Zionist values.  I grew up in Toronto, going to Bnei Akiva and attending Ulpanat Orot for high school. I visited Israel several times as a child and I had already decided that Israel was going to be my home at the young age of 8.
I would have made Aliya after the year, but I had promised my parents that first I'd finish university in Canada. After graduation, I arrived in Israel as a lone Olah at the age of 21 (before NBN!). I met my husband within a few months and we got married.  He was finishing Hesder and it was his turn to be a student.  I worked full time to support our growing family.  I didn't have a profession so I became an administrative assistant because I had the necessary skills.  This became my default work for the next 20 years.
As time went on our kids got bigger, became more independent and we were more financially stable but I was restless and unfulfilled at work.  I felt that this was my time to start something new.  I met with a career coach who helped me come to the realization that I had always admired tour guides and that I enjoyed contact with tourists.  I immediately signed up for a tour guide course and qualified for a Moreh Derech license in May. 
We live in the Golan on a yishuv called Hispin which I've since learned was visited by the Hashmonaim and is mentioned in a Byzantine mosaic found near Beit Shean. We have four daughters - Meirav 22 is a social work student,  Hadar 20 is studying software engineering,  Oriya 17 is about to begin her senior year and Shachar is going into grade 8.  My family also deserves credit for my achievement after the many months of classes and tiyulim plus weeks of intense studying.  I hope that I am a positive role model for them and they learn that they can achieve their dreams and at any age.
I've already started working in the field (pun intended) and feel that I have come full circle from my days as young visitor and seminary student.  I love bringing our beautiful land and rich history to the visitors and seeing their excitement as they discover a new site. 
With my new perspective, I find myself looking through my pictures from my year at Orot or going on a trail that we did that year and reliving the memories.  I clearly remember our tiyul to the Golan and if you had told me then that I'd live there one day, I don't think I would have believed you but I'm thankful for all of the steps in the journey that brought me to the place I am today.