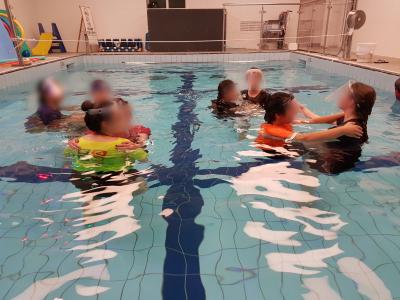 For the past 13 years, Special Education students in the 3rd year of the Sensory Motor Deficit internship program at Orot Israel College have been studying Hydrotherapy at the Beit Izzie Shapiro Development Deficiency Center in Ranaana.
Learning Hydrotherapy is the wish of every student in the Sensory Motor Deficit program at Orot Israel College. The students take all the basic science courses such as anatomy, orthopedic, kinesiology, neurology, etc. and patiently wait until the 3rd year when they happily move on to study hydrotherapy in Ranaana.
In the Hydrotherapy course, the students learn about the advantages of water for the purposes of therapy and rehabilitation. These include techniques such as Watsu – a water therapy technique in the emotional realm; Halliwik – an approach for imbuing water habits and swimming for the disabled; Jahara – a deep-water relaxation method; and hydrotherapy for sensory processing deficiencies, autism, attention deficit disorders and hyperactivity, along with other techniques. At the end of the course, the students do their internship and receive a top-grade Hydrotherapy Degree. In due course, they can expand their continuing education in the field.
This year, the students started taking the course at The Trump Institute at Beit Izzie Shapiro. They took two lessons, had the water experience and then the Corona plague broke out.
In the beginning, everyone thought that since the water in swimming pools has chlorine and undergoes disinfection, it would be possible to continue with the course. But social distancing and a general lockdown were implemented in the State of Israel, shutting down the pools and rehabilitative water therapy.
Like the entire nation of Israel, the students waited for the economy to restart, the pools to reopen and therapies to resume. It can be said that every day after Pesach the students inquired if the course was restarting, but the time hadn't come yet.
We were pleased when they gradually started to ease up on the lockdown after Shavuot, and announced that they were opening the pools. Beit Izzie Shapiro officials notified Orot Israel College that the course was resuming, but with clear rules on social distancing in and out of the pool. The hydrotherapy students were required to wear transparent masks in the water and follow all Health Ministry instructions.
The students happily purchased transparent masks, signed declarations of health, had their temperature taken at the entrance to Beit Izzie Shapiro, followed Health Ministry instructions in the pool, main hallways, classrooms and public space.
On June 1, 2020 the course that actually started in February was reopened. It will run until August in order to successfully complete the 14 days of this vital workshop.
What is most important is that the students are learning the course with great pleasure and following all the safety rules and Health Ministry instructions, with masks on their faces.
We wish them informative learning and great success in their theoretical and practical exams.