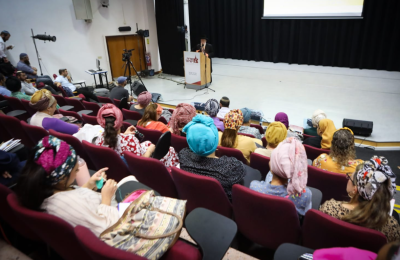 Orot Israel College, in collaboration with the HEMED (Religious Public School system), held a series of enriching in-service lectures and workshops for 130 members of the HEMED educational staff on the topic:
"Designing a Plan for Religious Zionist Identity" – Faith-based SEL (Social-Emotional Learning) – utilizing pedagogical, digital, and effective tools.
The educators benefited from illuminating lectures and chose from a variety of workshops, where they gained insight and tools for coping with the challenge of strengthening steadfast religious belief in these changing times. Rabbi Yaakov Shapira, Dean of the Merkaz Harav Yeshiva in Jerusalem, honored the participants with his presence, encouraging them and expressing his appreciation for their undertaking a crucial mission in the field of education.
Among the esteemed lecturers was Rabbi Dr. Yonah Goodman who spoke of the challenges and hardships of educational work while offering practical tools to help the participants achieve their goals. Hila Epstein, Guidance Counselors Supervisor in the Education Ministry's central district, presented the religious SEL model developed by the HEMED Rabbi Matanya Yedid and spoke about preparing students to make identity-shaping decisions.
Additional lecturers who provided important educational tools included Deputy head of the HEMED Michal De-Han, HEMED arts studies supervisor Revital Stern, Rabbanit Dr. Lea Wiesel, Rabbi Gad Bar Tov, Ellie Atiya, Michal Giar, Sherry Weis and others.
Efrat Weis, a leading expert in the field of the performing arts in the HEMED, summarized the event: We had the privilege of providing an opportunity to "recharge" for over 130 educators, replenishing their energies after a busy academic year in preparation for another successful year in the field of education. The participants left strengthened and ready to lead their students forward to greater achievements. All this would have not been possible without the successful collaboration with Orot Israel College and its Department of External Studies headed by Ro'i Tzadok, and all those involved in this endeavor."
Michal Giar, head of "Screen Shielding" in the HEMED, spoke of the ongoing media revolution from a religious point of view.
Ultimately, participants felt that the program deepened their understanding of the educator's role as a leader in developing students' identities. Participants called it "two days of inspiration".
Workshops:
Media, mindfulness, and breathing exercises utilizing empowering educational and identity-forming tools.
Many thanks to:
Michal De Han Rabbi Gad Bar Tov, Central Division Supervisor
Efrat Weis, the leading expert in performing arts in the Hemed
Sari Weis, head of religious pedagogy in the HEMED 
Roni Tzadok and Rivka Eisenhammer of the department for in-service programs.