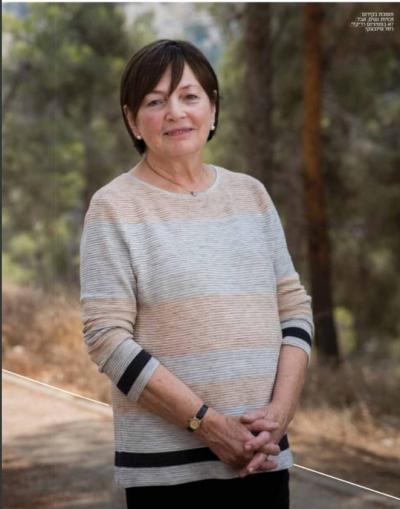 Rochel Sylvetsky, long-time Orot Board of Governors and Amuta Committee member, has made her mark in Israeli education and communications. Orot Israel College is proud to extend its congratulations to Rochel Sylvetsky on being chosen as the Israeli recipient of this year's Outstanding Educator Award for her many accomplishments to further religious education.
Rochel and her late husband Dov, founding dean of the Emunah College of Arts and Technology in Jerusalem, met on the way to Israel to study at Machon Gold in 1962 and came on aliyah from the USA in 1971.
Over the years, in addition to being active in Orot and holding teaching and administrative positions in the Israeli school system, Rochel served on the Education Ministry's Council for Religious Education, as Academic Coordinator of Touro College Jerusalem's M.A. program in Jewish Education, Chairperson of Emunah Israel and CEO of the Kfar Hassidim Youth Village for teens at-risk where she hired the first Ethiopian immigrant school rabbi and founded the first yeshiva high school to be located in a youth village. These are just two examples of the educational innovation that characterizes her career.   
Upon retiring from the Youth Village, she became Managing Editor of Arutz Sheva's English website and is now its Op-ed and Judaism Editor. Her op-eds are widely read in Israel's religious Zionist community and she is a member of the amuta of Torah Mitzion and on the board of directors of the Knesset Channel.
The award ceremony took place at several venues simultaneously due to the corona pandemic and was broadcast on Zoom to over 200 participants.
Mayor of Jerusalem, Moshe Leon, spoke from his office, while Chief Rabbi of Jerusalem Rav Shlomo Amar accompanied by Dr. Yaakov Hadani, former head of Lifshitz Teachers College, David Ben Naeh, head of the World Association of Orthodox Communities and Synagogues and Prof. Eliav Shoechtman of the Award Committee spoke from the rabbi's home. US Award recipient Rabbi Yotav Eliach spoke from NY and Rochel Sylvetsky, along with Prof. Luba Charlop of the Award Committee and Ms. Adi Samson, Co-chair of the World Association of Orthodox Communities and Synagogues, spoke from her home.
The award committee wrote that Mrs. Sylvetsky was chosen "for her dedication to the Jewish people, her wholehearted activities to further the Gathering of the Exiles through immigrant education and absorption, for granting immigrant young people a feeling of family in youth village environments. As Chairperson of Emunah Israel, she worked to advance Torah study for women and to strengthen the values of the Jewish Family and its welfare. As an educator, she was a source of inspiration due to her vision, innovations, clearly defined goals and objectives, and her steadfast striving for excellence in achieving them."
MAZAL TOV!!