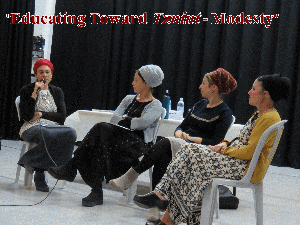 "Educating Toward Tzniut- Modesty"
by Rabbanit Dr. Leah Vizel
Recently an Educational Forum on the subject of "Educating Toward Tzniut "was held at our Elkana Campus. On the one hand, the choice of this particular topic arose as a result of its obvious importance. While on the other hand this topic was chosen particularly due to the discomfort of speaking about it in a public forum. The goal was to open with a discussion and to begin a process in which each student will be able to formulate her own position in regard to this important subject before she ventures out into the educational world. The working assumption was that this Educational Forum cannot cover the subject in its entirety and that which was started here is to be continued.
Click here to read more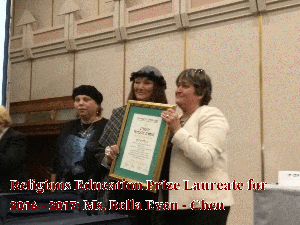 Religious Education Prize Laureate for 2016- 2017 Ms. Bella Even- Chen
Ms. Bella Even- Chen, an educator and pedagogic instructor in the field of counseling at the Elkana Campus is one of the Religious Education Prize Laureates for 2016-2017.
Click here to read more
 

Study Days For Young Women in National Service (Sherut Leumi)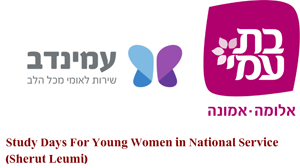 Over the past few weeks we conducted a number of seminars for young
women who are doing National Service through the auspices of the "Bat Ami" and "Aminadav" non-profit associations. The purpose of these study days was to give these women tools to be able to cope on a day to day basis in their places of service. Each of these days began with opening greetings from the Dean of Students, Rabbanit Dr. Leah Vizel; as well as with a narrated dance performance conducted by our Dance majors under the tutelage of Sharona Florsheim.
Click here to read more
 
Orot Family Update
Mazal tov to:
 
Daniella (Citron) Burstain (5756) upon the birth of her twin sons, to Yoni (Cantor) Wiseman (5756) and Michal (Katz) Reinitz (5764) upon births of their sons.
 
Sharon (Myers) Blumberg (5756), Tamar (Chaimovitch) Chaitowitz (5759), Clara (Manson) Singer (5760) and Kelly (Ekstein) Rosenstein (5761) upon the births of their daughters.
 
Mazal tov to Tamara Frankel (5765) upon her recent marriage to Zach Silver.
 
Mazal Tov to Dana Adler (5765) upon her recent engagement to Shiron Lev-Ron.
 
Mazal Tov to Rabbi Aviad and Debra Tabory (5751) upon the Bat Mitzva of their
daughter and to Deena (Block) Selengut (5754) & Vivianne (Wenger) Korach (5756) upon the Bar Mitzvot of their sons.