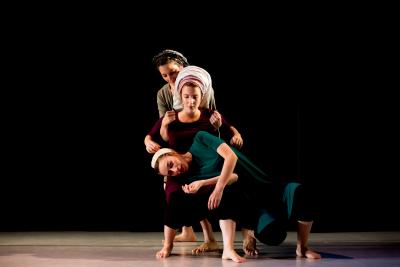 These Corona times have introduced us all at the academic institutes to a new teaching experience using Zoom. This experience challenges teachers and students at the dance program many times over, as the basis of our learning is movement that requires activity in a workshop group accompanied by professional instruction, which examines our work at any given moment and is located in space that is suitable from a professional standpoint.
For all of us, dancing in the Zoom space is a different kind of experience, both challenging and unnatural. In dance sessions on Zoom we ask our students to create a learning space and turn the home and furniture-free floor into a domain that is attentive to their bodies, the lecturer and the instructions. Learning in Zoom inhibits the group energy that flourishes in dance lessons at the studio, an energy that stimulates the students and strengthens their motivation.
Dance lessons in Zoom rely on the ability to move from one space to another. On the one hand to listen to the lecturer and to questions asked by peers and on the other hand to revisit the body in the limited home space. A Zoom lesson requires keeping both channels open, like being in two places at the same time. In addition, there is a need to maintain internal and external attentiveness, inner attention to movement and outer attention to what is going on outside. This is one of the things that makes the domain so unique – the ability to connect between body and soul, different kinds of attentiveness and different spaces.
We will conclude with the words of one of our students: "The lessons teach us to expand the workable limits, something which in our past experience was nearly impossible, is suddenly doable and really happens. I dance at home beside my husband, and at the same time I am listening to the lecturer and to my body. There is a pleasant and sweet feeling that all is one, in spite of everything."