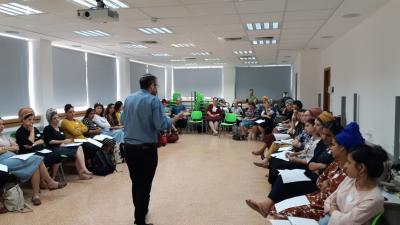 The Institute for Educational Leadership and Emunah was founded twenty years ago by Rabbi Dr. Yona Goodman, who has served as director to this day.
Every year 60 students who wish to expand their Torah and educational horizons, study at the Institute, with a will to be integrated in a future role as a class instructor and in a more senior leadership role. The institute was established with the understanding that there was a vacuum in the Israeli teachers' training program. In Israel there is an awareness of the special importance of the role of the educator, yet there is no mission training for this most significant role.
Within the institutional framework, the students undertake meaningful personal and group processes. They participate in 8 hours of unique weekly studies, in meetings with diverse educational leaders, visits to innovative schools, and more.
The institute also maintains study frameworks for its graduates. In these frameworks, which include seminars, active whatsapp groups and more, the graduates get recharged on educational and Torah standards, become exposed to new education challenges and maintain consultations with colleagues who speak the same language they do.
Within the framework of the graduates' continuing enrichment, a unique seminar was held in July 2019 for 60 practicing educators and teachers.