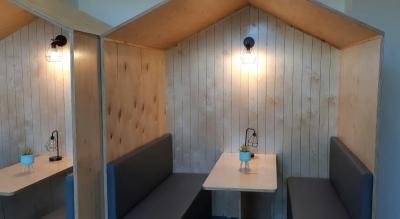 Orot's Center for Learning and Teaching Center was designed to befit the innovative teaching strategies and pedagogic outlook for developing the skills suited for the 21st Century, with the aim to give its students a meaningful learning experience.
Measuring 300 square meters on the first floor of the library building, the Center was designed as part of Orot's promotion and development in different realms, and the assimilation of innovative pedagogy among the lecturers along with teaching and study methods. The physical change is a springboard for significant pedagogical change.
The study area was planned with an emphasis on implementing the pedagogic outlook that sees and comprehends that the student is in the center. In this manner, spaces were developed with diverse characteristics that are suited for various students at different phases of the learning and teaching process.
The study room encourages creative development, imagination and curiosity; provides meta-cognitive clarifications with accompanying displays; places an emphasis on creative design and the arousal of thought in a space that constitutes a frontal pedagogic text. Fixed designs and study areas are exchangeable, with the objective to assimilate frontal education principles and encourage creativity among the students.
The Center enables experiential learning: helps develop a sense of self- capability and motivation. The Center's staff provides pedagogic reference services, with guidance and support to experience the various teaching processes.  The Center enables successful experiences that build confidence for teaching.
The room contains printed books, study kits and illustrations which assist in the learning and teaching planning processes. In parallel, supplies of content and web databases are made accessible for the students.
The Center contains an independent store for purchasing various materials that help enrich teaching and learning.
The wide study area is suited for innovative teaching strategies, an aesthetic space with a design expression, versatile furniture and various study guides. Spaces that create different types of interaction: for independent learning, learning in pairs and group studies. Computer stations with convenient electrical outlets are available for work.
Students can meet in a flexible study area planned in accordance with new pedagogic principles. The study area is suited for frontal learning and independent and group work according to changing needs.
The reference station is fitted and made accessible to enable greater staff-student involvement.
The area contains a workshop that enables work and experience with various materials, through professional guidance for planning and suiting the quality of the products to the content of the lessons.
At the Center for Learning and Teaching, Orot has set a goal to form a bridge between the academy and field teaching and invites our students to a different type of learning experience, to gain experience with the change that is taking place in the schools and to upgrade their learning and teaching.   
The Hebrew inscription on the wall in the top photo is a source for inspiration:
"He who worries about the days ahead plants wheat; he who worries about the years ahead plants trees; he who worries about the generations ahead educates people."