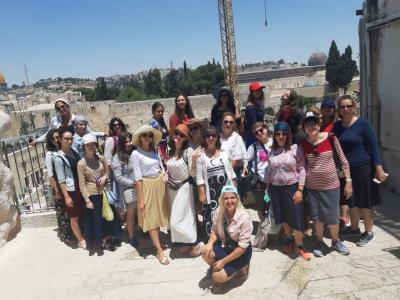 Orot Israel College was chosen by the Israeli Ministry of Education and Ministry of Diaspora Affairs to initiate the first teacher's leadership training program for teachers from Diaspora who will return and teach in Jewish schools in the Diaspora. The program currently advances Jewish education training for Russian speaking countries due to the lack of Jewish education.
Orot, Israel's largest religious college, was clearly chosen to lead this meaningful program owing to its reputation as a highly valued academic institution imbued in Jewish Emunah and identity.
 "Bringing Jews back to their Jewish roots is a national mission that we are proud to be part of," says Orot Israel College's President Professor Yuval Sinai.
"After generations of being cut off from world Jewry, the Diaspora is at a stage when all exposure to our Jewish heritage is a positive influence," added program director, Aliza Lipsker.
The first two semesters took place this past academic year in Dnipro, Ukraine with ongoing classes and lectures via online videos.
In July 2019, Orot welcomed 23 women, ages 18-50 years old, from Beit Hana, Ukraine's Jewish University, who participated in the program, for one semester at Orot. The program covered Jewish and pedagogic content that was taught by various experiential means.
Several teaching methods were demonstrated that were not familiar to the students and it definitely impressed them.
The main objective of this innovative program was to empower a teacher in the Diaspora with Jewish knowledge, academic, pedagogic and leadership skills, a love for the Torah and a strong attachment with the land of Israel.
Here are some comments from the participating students:
"We encountered Biblical figures that we learned about in Ukraine"
"I was surprised how much my Hebrew improved being in Israel"
"It was amazing to sing songs in Hebrew and to be able to understand the words gave it a new meaning"
"I feel I am walking together with King David"