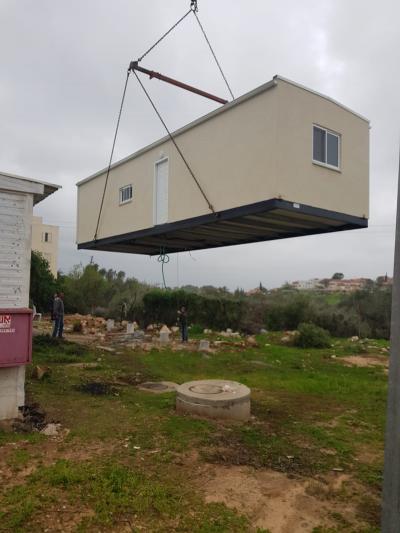 Despite a cold and rainy Friday morning, the excitement was in the air at Orot's Elkana campus, when the trucks arrived with the first 4 modular homes for Orot's married students. The cranes slowly lowered the 4 modular homes into place, with the approval and great satisfaction of Nomi Spanglet, Orot's Director of Resource Development, who has worked very hard to see this happen.  For Nomi, who has been at Orot for over 30 years, this is really a dream come true.
This is indeed a historical time for Orot. After over 25 years of providing caravans as living quarters for our married students, the new modular homes are replacing the very old and dilapidated caravans.
 Young couples will reside there and reap the benefits of affordable low rental cost and living on campus as well as excellent early childhood day care services for their children, thus enabling them to dedicate their time to their studies.
 "I would like to take this opportunity to thank our wonderful and very generous donors for enabling us to improve the living conditions of our married couples.
We are working very hard to reach our goal of replacing all 50 caravans with new comfortable modular homes."
 
Nomi Spanglet, Director of Resource Development