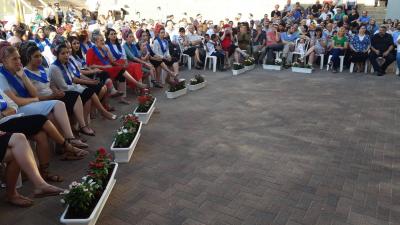 At the graduation ceremony held for BA students at Orot Israel College in Elkana a young woman named Yeholasht (Kara) Tigist, who emigrated from Ethiopia at the age of 15, especially stood out. Yeholasht did two years of National Service at the Ofra Religious Girls High School as a youth leader for Ethiopian girls and arrived at the College to study for her BA in Childhood Education. With care and guidance from the College staff, after two years of practical work she completed her degree with excellence.
Embracing her mother during the ceremony, she said that her parents wanted her to work rather than study. "I promised my mother that that she would share my excitement when I completed my degree. The staff and my girlfriends at the College gave me the strength and the tools to overcome all the difficulties," she summed up with emotion.
Today Yeholasht is working with pre-school children in a Special Education program in Tel Aviv and is considering doing a second degree, out of love for her studies.
Orot Israel College Professor Yuval Sinai said: "Tigist is an example of the successful integration of Ethiopian immigrants into Israeli society, and we at Orot are proud to have had the privilege to be partners with this worthy undertaking."
Graduate ceremonies for MA students were held separately at our Elkana and Rechovot campuses.