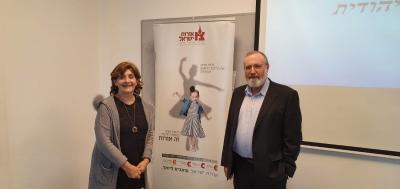 Orot Israel College hosted a conference in history, "Given the Challenges of the Time", in memory of Rina Shnerb הי"ד who was murdered by a roadside bomb near Dolev in August 2019. Rina's  ז"ל mother is an Orot graduate and her sister, Moriah Singer is presently a second year student at Orot.
Opening remarks were delivered by Rabbi Dr. Moshe Rahimi, Dean of Orot Israel College.
Headed by Dr. Yael Klein, coordinator of Orot's History Department, some of the prominent lecturers included: Rabbi Avraham Krieger, Director of the Shem Olam Faith and Holocaust Institute for Education, Documentation, and Research who spoke about "Jewish History-the Challenges and the Mission", Rabbi Yigal Levinstein, head of the B'nei David Eli Mechina who lectured about "Understanding the Process and Spiritual Tools in Coping the Challenges of our Time." At the end of the conference, Chagit Rosenberg and Chaya Gazit held discussion circles with the 60 Orot students who attended the conference.