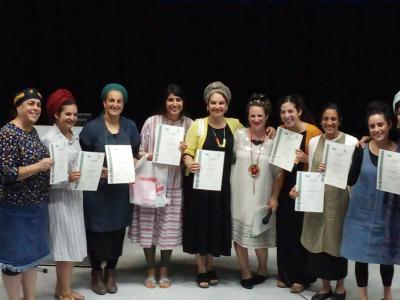 Orot Israel College in Elkana launched this year's activities at the Orot Family Center that was established two years ago. Students attend a continuing education program in marital relations consultation, bridal guidance and sexuality with Jewish family purity. Dr. Tzipi Rhein is the Director of the Center.
The Family Center trains consultants for marital relations as well as parental and bridal consultants, with the aim to train young women for work in the field with professional certification. "The College believes in providing these services for the students themselves: preparation for birth, marital relations and diverse assistance such as bridal consultation and supporting the transition from bachelorhood to marriage. I believe that every student who benefits from these services will ultimately become a better teacher," Dr. Rhein says.
 
An important issue that the Family Center deals with is family violence and the early recognition of hurtful marital relations. "In my work as a marriage counselor I meet many married couples who are not actually violent though other forms of aggression are constant, such as the man's control over the money, prevention of financial independence, humiliation of spouses, etc. This happens in many different forms, and my purpose is to instruct young couples how to avoid getting to a situation where marriage is harmful. A spiritual blow is no less serious. I want to raise a generation of married couples who can defend themselves, identify the signs of a hurtful relationship and also know how to get out of such a relationship."
  
"We at Orot Israel College believe that the family is the most important issue in the field of Education, and for this reason we established the Family Center, to provide the tools to present and future instructors," says Orot Israel College President, Professor Yuval Sinai.