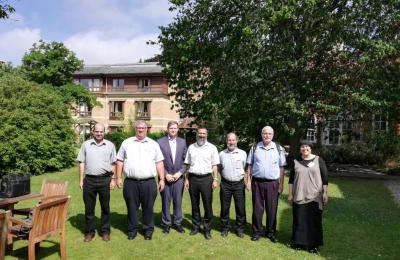 Orot participated in the Oxford Conference in England that ran from Monday, July 22 -Wednesday, July 24. The theme of the conference was - "What is Commentary?"
Orot Israel College prominent speakers, including Orot's President, Professor Yuval Sinai, delivered lectures on the following topics: 
 
Rabbi Dr. Zvi Stampfer: 'What a Wonder: A Pharisee-Sadducee Interpretational Polemic as Appears in the Medieval Biblical Commentaries.'
Dr. Ari Geiger: 'Jewish Biblical Commentary between Peshat and Polemics: Rashbam on Genesis 18-19 in the Context of Jewish-Christian Controversy.'
Rabbi Dr. Yochanan Kapah: 'The Influence of Jewish-Christian Polemic on the Interpretation of a Jewish Bible in Portugal in the Fifteenth Century.'
Dr. Miriam Sklarz: 'The Holy One of the Lord': Aaron in Nahmanides' Commentary in Light of the Jewish-Christian Polemic.'
Professor Ben Zion Rosenfeld: 'Rashi's Introduction to the Bible: A New Direction in Understanding Rashi's Biblical Commentary.'
Rabbi. Dr. Haim Perlmutter: 'Nachmanides' Introduction to his Bible Commentary as a Jewish Theological Polemic.'
And Professor Yuval Sinai: 'The Maimonidean Interpretation of Aristotle's "Corrective Justice" and "Distributive Justice"'
As Israel's largest religious teachers' college of education, Orot Israel College is at the forefront of academic educational research and we look forward to participating in future conferences in other prestigious universities.