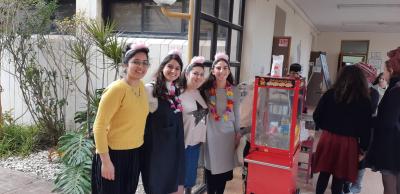 With the start of the Spring semester on Rosh Hodesh Adar, the Orot Elkana Students' Association ran a colorful Purim event which included attractions such as magnet photography, various Purim themed stands, cotton candy and popcorn. One of Orot's students commented: "Days like these cheer us up and bring everyone together."
Orot Israel College has reason to be proud of one of its model students, Chen Morasha Shoker, who is following in the footsteps of her righteous father, Rabbi Yosef Shoker of blessed memory, who for many years sent mishlochei manot to 1,000 IDF soldiers on Purim.
Chen not only continued her father's legacy, she organized 200 stations and delivered 10,000 mishlochei manot. 
Orot Israel College is so proud of her efforts and her commitment to fulfill her father's legacy and to warm the hearts of those in need.