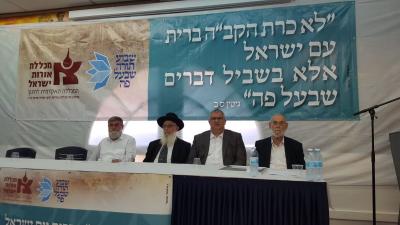 Orot Israel College recently hosted the second National Convention on Jewish Oral Law at its Elkana campus for women and Rechovot campus for men. The conferences, initiated by Professor Yuval Sinai, President of Orot Israel College, were open for free to the general public.
Toshba, Jewish Oral Law, is the anchor of Jewish culture and religion. This 3 day convention engaged participants in approaches to Jewish Oral Law through the study of Talmud, Halacha, Hebraic law, Maimonides, the sages and research methodologies.
The Elkana campus sessions brought some of Israel's leading Torah and academic lecturers, including Rabbanit Chana Henkin, founder and head of Midreshet Nishmat, Rav Chaim Navon, Rabbanit Shlomit Shiler, head of Ulpanat Kfar Pines, Dr. Meirav Tubul Kahana , Rabbanit Shlomit Ben-Shaya , Rabbanit Dr. Adina Sternberg, and more.  Their lectures stimulated the minds of the many participants in how to deal with educational and halachic challenges in our postmodern era. From philosophical insights to basic halachic and practical advice, the conference enhanced everyone's lives. Many thanks to Rabbanit Dr. Leah Vizel for organizing this wonderful day of learning.
The second two day conference for men at Orot's Rechovot campus brought Gedolai HaTorah, such as the Chief Rabbi of Israel Rav Yitzhak Yosef, Rav Chaim Sabato, President of the Conference, Rav Yaacov Ariel, Rav Ben Tzion Elgazi, Rav Eliezer Melamed, and many more. Their words of wisdom captivated and enriched the hundreds who attended.