Orot graduates serve as administrators and teach children of all ages and abilities in communities across the State of Israel.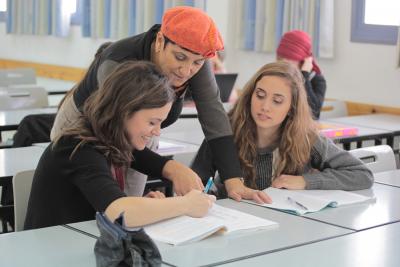 Orot currently offers B.Ed. degrees in the following majors:
Degree-Granting Majors:
• Secondary School Teaching: Sub-majors are Bible, Talmud, Jewish Philosophy, History, Computers, Mathematics, English, Hebrew Language, Land of Israel Studies, Jewish Law, Informal Education (Youth at Risk), Communication and Literature.
• Special Education: Sub-majors are: Mainstreaming the Exceptional Child; Educating Children with Serious Disabilities. Students can study for an addition professional certificate in Teaching through Occupational Therapy.
• Early Childhood Education focuses on kindergarten and grades 1-2, as well as a sub-specialty in Early Childhood Special Education
• Dance and Movement
Orot recently received approval to grant a B.Ed. Tech degree to students who will receive special training for teaching the technological industries. Orot is the only College with in Central Israel that has been awarded the ability to grant this important degree.