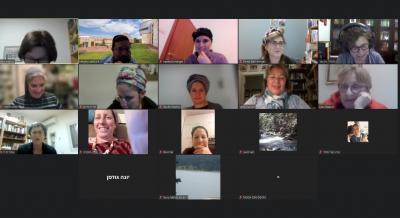 It has been customary for years at Orot Israel College to hold a general College colloquium where lecturers presented before the College faculty the fruits of their research. This year, due to COVID-19, the College faculty has not met face to face. In order to continue the tradition of the colloquium, Prof. Miriam Sklarz, Head of the Master Program in Mikra and Sifrut Hachachamim and Dr. Avia Gutman, Head of the Special Education Department at the College, decided to unite the two College campuses in Rechovot and Elkana.
Once a month, on a Thursday evening before Rosh Chodesh, Orot's faculty holds a zoom session that opens with coffee and cake, of course with everyone in their home, and a friendly, virtual discussion.
This virtual colloquium introduces a different lecturer who presents the fruits of his/her research in the fields of Judaism, education, literature, studies in the Land of Israel and more. After the lecture, a fruitful discussion takes place between all the participants.
This is a wonderful opportunity for lecturers from different fields at Orot's two campuses to learn what is being done in other research fields at the College, to exchange opinions and to get to know each other better.
COVID-19 introduced Zoom studies that easily enables encounters of this kind without a great effort in the logistical planning for all the participants.