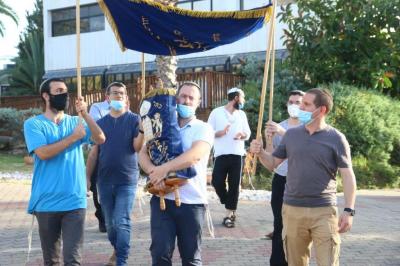 Due to COVID-19 our synagogues were closed and the gates of prayer were opened in our backyards, in the streets and on verandas.
Today, once again synagogues are open and Hashem invites us to visit His house. We are blessed to inaugurate a new synagogue/Beit Midrash at Orot's Elkana campus.
Community members have davened for years in the College cafeteria, but we all know that a community without a synagogue lacks the beating heart, the true center around which a community is built.
It was a great privilege for us to inaugurate a synagogue and Beit Midrash that was built in full cooperation with the members of the community, such as the building of the Mikdash, the members of the congregation, built this temple within them.
Last Thursday, on the 12th of Sivan (June 4, 2020), we were able to open the gates of the new Orot synagogue and place our Sefer Torah in order to restore the beating heart to the temple.
Many dignitaries participated in the exciting parade of Hachnasat Sefer Torah: Rav Eitan Eizman, Chairman of Orot's Board of Trustees, Rav Chaim Fogel, Chairman of Orot's Board of Directors, Professor Yuval Sinai, President of Orot Israel College, Dr. Shimon Weiss, CEO of Orot Israel College, Rav Dr. Moshe Rachimi, Dean of Orot Israel College, Rabbanit Idit Shilo, Dean of Students, Mrs. Nomi Spanglet, Director of Orot's Resource Development and Public Relations, Rav M. Yehuda Stern, Elkana's Rav, , Tehilla Parnes ( Am Bayit of Orot's dormitories for married students) and community members. 
Accompanied by song and dance, the Torah Scroll was joyfully taken into the synagogue where new mezuzot were fixed on the doorposts.
The festivities continued with the keviat mezuzot in the four new, spacious modular homes for Orot's married students, which were so generously donated by Orot supporters, thanks to the hard work of Professor Yuval Sinai and Mrs. Nomi Spanglet. The modular homes replaced four dilapidated, over 25-year-old caravans.
Two Orot married couples have recently moved into their new modular homes. Due to COVID-19 and the Ministry of Health's regulations, their Chanukat Habayit was attended by a limited amount of students and staff.
Refreshments were served courtesy of Orot in addition to a light buffet that was prepared by the students.
During the next few weeks, Beezrat Hashem, Orot plans to purchase an additional four new modular homes for the benefit of Orot's married couples. We hope these modular homes will be ready for use within a few months.
May we always see blessings from expanding community life at Orot!